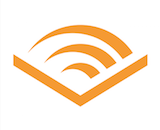 Audible's founder is exiting his post as CEO. Don Katz will step down as CEO and become executive chairman of the audio company. Bob Carrigan will join Audible as its new chief executive effective January 2. Katz and Carrigan will collaborate on preparing Audible's strategy for the new leadership. In 2020, Katz will focus on Audible's global content strategy, social plans, and public policy objectives. Carrigan will be responsible for the global business operations.
Carrigan was most recently executive chairman of data and analytics company Genscape. He is a media and publishing executive who has also been CEO at Dun & Bradstreet and at IDG.
"Bob Carrigan is among the most accomplished, creative, intellectually adept, and inspirational CEOs I have watched succeed over my 20 years of studying and chronicling businesses and my 24 years leading Audible," Katz said in a statement.
"Audible's evolution from startup to global powerhouse is a remarkable business and cultural phenomenon," Carrigan said. "I could not be more honored and excited to join Don and the talented people who have worked so hard to serve millions of customers and so many of our most gifted professional creators."