Voxnest released its annual report, with data and trends about another twelve months of growth for podcasting. The company highlighted three big moves within the industry in 2019:
The "Hollywoodification" of Podcasts Takes the Industry Mainstream
International Podcast Content Thrives
Programmatic Advertising Conversations Rise Above a Whisper
Podcast operations have been developing connections with other industries. Audio programming has created cross-overs with book publishing, music, movies, and television.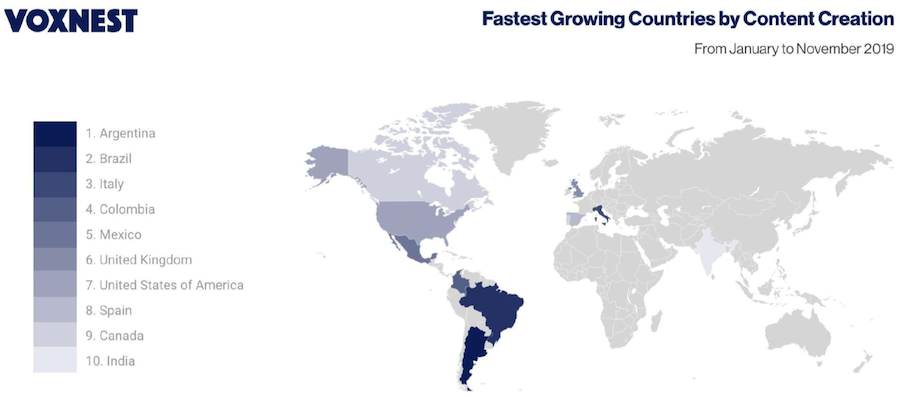 Between January and November, Voxnest found that South America had the most significant growth in podcast creation. Argentina was the top market, followed by Brazil in second and Colombia in fourth. In a related statistic, Spanish language podcasts increased 56% year-over-year within the Voxnest network, a leap up from the 13% growth in the company's 2018 report.
At Voxnest's most recent assessment, Spotify was the dominant podcast listening platform across most of South America and Latin America. It also overtook Apple in markets including Canada, Iceland, Switzerland, and Greece. Apple is the leading podcast platform in most of Asia, Africa, and Australia.
Podcast listening also grew heavily in several Spanish-speaking markets. Chile and Argentina took second and third, with Peru, Guatemala, El Salvador, and the Dominican Republic also taking spots in the top ten.
The report closed with a few predictions about 2020. Voxnest called for better discoverability in the podcast space. It also anticipated continued international growth and a bigger gap between amateur and professional podcasters. Finally, it suggested that other podcast platforms would fill any niches left by Spotify and Apple.