Returning to the very substantial Cumulus Podcast Report 2021, produced with Signal Hill Insights, after our first look last week, we are now focused on the section related to what listeners want from podcast subscriptions. That topic is timely, as Apple, Spotify, and others enable podcasters to create premium plans in which listeners enjoy exclusive benefits.
Typically, those benefits include two main benefits: 1. Bonus episodes or other content, and 2. Ad-free listening via a special subscriber-only feed. On Patreon, where some podcasts have built thriving donor communities which enjoy multiple benefits, access to the hosts is another perk.
Which benefits make the sale to podcast listeners? The Cumulus/Signal Hill study addresses that question, and arrives at a  definite answer: Content will sell best.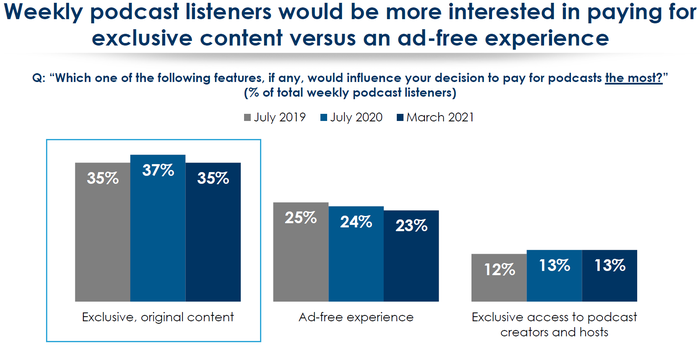 Note the three-year span of the results above. Combining the year-over-year 2020-2021 results shows an overall (slight) decrease in preference for subscriptions generally. That might be something to consider, but the main takeaway for creators is that bonus content wins the day with subscriptions. It makes sense since many research studies show a general acceptance of advertisement in podcasting. One portion of this study examines that issue, and concludes: "Weekly podcast listeners are comfortable hearing ads,  and the more time they spend with podcasts, the more ads they will accept. (There is even a preference for ads when artfully performed; we were told by one network executive that subscribers complained that the ads were removed.)
.