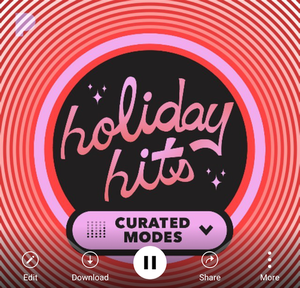 Pandora launches its end-of-year promotional campaign today, following internal research which showed that 7% more listeners tuned into holiday stations between October 15 and November 15 than during that stretch last year. (The early Christmas rush seems to be a Covid-year phenomenon, and is also indicated in record early sales of Christmas trees.)
Pandora's new brand campaign, called "Holiday Hits Different" is fashioned in recognition of pandemic weariness, centers around video spots which illustrate that even with all the differences this year, music is still a fail-safe way to create the perfect holiday mood. Here's an example:
The promotion's front end are two of Pandora's holiday stations, "Holiday Hits" and "Christmas Radio," with an accompanying feature called Modes. The Modes effectively expand either station to seven stations: Pop Holiday, Mistletoe Duets, By The Fire, Acoustic Holiday, Classic Holiday Covers, Holiday Originals, and Holiday Party. (We were told that "Christmas Radio" contained a special Holiday Top thumb Hundred Mode, but we couldn't find it in the Modes list.)
The PR campaign will also include integration with Jimmy Kimmel, and a takeover of Elf during AMC's "Best Christmas Ever" programming.
.