Australian broadcast and audio company ARN has released a metrics report after one year of managing the Australian franchise of iHeartPodcast Network. The headline brag point: Downloads doubled.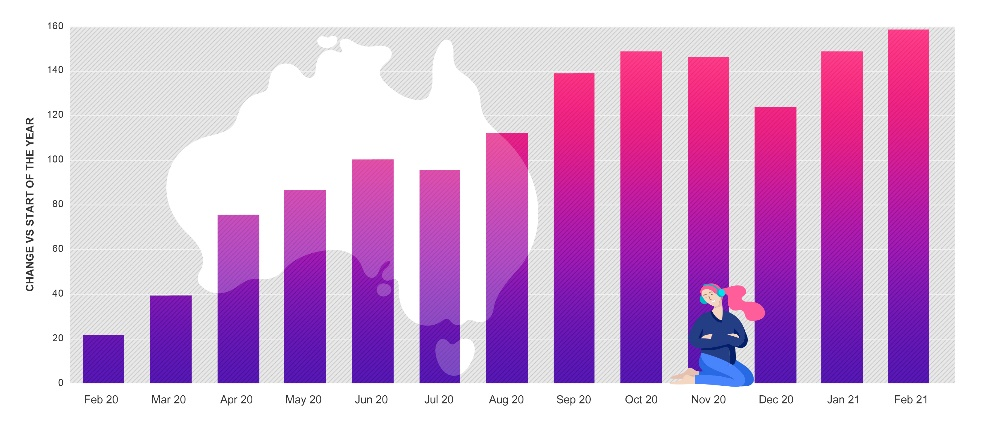 Here's  more detail:
In the 12 months since launch, the iHeartPodcast Network Australia's downloads have more than doubled.
The average weekly downloads in February 2021 are up 111% compared to the same time last year.
Already this year, 1.2 million Australian devices have been used to download iHeartPodcast content – a record number for the platform.
ARN started regional management of iHeart's podcasting group in February, 2020. That launch offered brands the chance to reach listeners with host-read and geo-targeted podcast advertisements. ARN also offers tools for campaign measurement and attribution. In today's announcement, Megaphone is mentioned as ARN's hosting platform.
In the year-over-year results, all podcast categories gre, but not by the same amount. Business & Finance is the leader by far, with what ARN calls a "staggering" growth of 407%. The pandemic has a role in that, but ARN notes that finance podcasts continue to perform strongly.
Interesting to note: "Catchup Radio" (which is archived and downloadable radio shows or segments) is  very popular — 81% YoY growth.
ARN's Head of Digital Audio, Corey Layton said, "The iHeartPodcast Network Australia has had an incredible 12 months – holding the title of Australia's #1 Podcast Publisher* since launch, showing phenomenal growth. From day one, our mission has been to connect the best local and global creators with audiences and to create deeply integrated and measurable brand campaigns. Our leading-edge data and growth across the platform shows we are delivering what audiences and brands want – and we're just getting started."
ARN's Chief Commercial Officer Pete Whitehead said, "With the success of the iHeartPodcast Network, ARN continues to expand its commercial offering with the most compelling content partnerships on a platform that has seen exceptional audience growth in the past year. We will continue to expand the iHeartPodcast Network's diverse content offering and deliver the very best integrated commercial partnership opportunities for clients with our market-leading comprehensive audio offering."
.