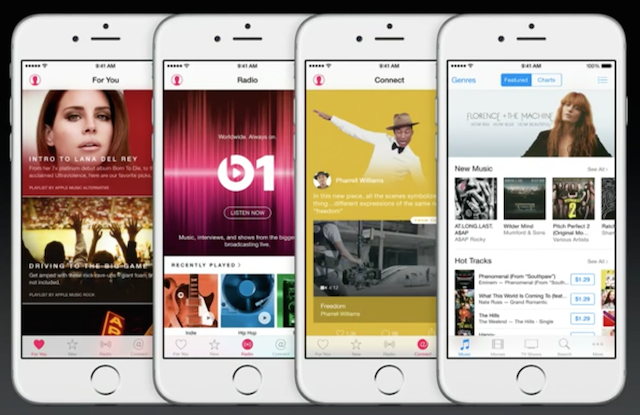 After a long build-up and a vast amount of speculation, Apple has finally announced Apple Music, its overhauled music offerings. Cook dubbed the new service "the next chapter in music," and presented it as a single resource for listeners' various musical needs. Most of the features and news shared by Tim Cook and his colleagues fell in line with the previously reported rumors on what it would look like.
My Music
Apple Music will combine three facets. First is the music service, which includes My Music, For You, and New. The first includes your own library of songs, and is an updated take on the currently available iOS Music app. It has some new features, such as an Up Next queue, a slider of your recently added albums, and a mini-player at the bottom. It also added artist pages that tap into the entire iTunes library. For You is the recommendation engine, and all of Apple's presenters emphasized that these suggestions were being made by people rather than algorithms. This section makes its recommendations based on the listeners' playlists and past iTunes purchases. Finally, the New section offers discover tools similar to most other streaming services. See recently released singles and albums, plus a selection of playlists.
Beats 1
The bigger changes start kicking in with the announcement of Beats 1, a 24/7 global live radio broadcast. This facet will be spearheaded by the recently-hired Zane Lowe, who made an appearance by video to talk about the ability of radio to spark discussions and debate about songs as large groups of people tap into the same tunes at the same time. Beats 1 will broadcast from Los Angeles, New York, and London. When listeners tune in, it appears that the broadcast will play in the same mini-player as individual tracks do.
Even though this was one of the more intriguing developments, we didn't hear too many details about the radio content. Various screenshots of Beats 1 showed sliders for Recently Played and Featured Stations, but the demo only included a short clip of Lowe on the main station speaking with Florence Welch of Florence and the Machine. We can expect that interviews and news are most likely going to be elements in the service's programming, and Apple's presenters noted that there would be artists hosting shows. No names were dropped on that front.
Connect
Finally, Apple Music has Connect, which lets artists on the platform share the content of their choice with followers. Anything from photos and videos to audio clips to written content is fair game. This feature will be available to established, new, and unsigned artists.
During the show, hip-hop artist Drake came onstage to help present this new feature. Apple is rumored to be negotiating with him to be a host for a Beats One show, but the focus today was all about giving control to artists. He talked about his personal journey to success, first attempting to break out through major labels but eventually forging his own path to making his art available directly to fans online. Drake called Connect a simplified version of that path for getting artists in front of their existing and potential fans.
Price and Date
Most of that news was already on the industry's radar, as there as been thorough reporting on the expected changes prior to today's announcement. However, the team did clarify two of the key questions that had circled around Apple Music's launch: a date and a price point. Despite alleged efforts to bring the cost down, Apple Music will cost $9.99 a month. And even though free was not expected to be in the service's vocabulary, the first three months will be given at no charge.
One surprise item from the show was the announcement that there would be a family subscription, granting separate accounts and recommendations for up to six people for a single price of $14.99 a month.
Apple Music will roll out in more than 100 countries on June 30. It will be available on iOS, with an Android launch coming in the fall.