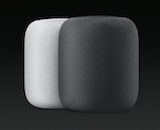 Apple's HomePod has not been a fast mover. It has been slow to make inroads with U.S. consumers, and it has also been gradual with reaching new markets. The latest development will bring the smart speaker to Japan, although later than originally expected.
The HomePod was first rumored to roll out in Japan last year, but its new anticipated release is this summer. Apple has not provided a date, but it does have a site up for orders. It will retail for 32,800 yen (about $300) and will have models in white or space gray colors.
At launch, the smart speaker was well regarded for its technical achievement, boasting excellent audio quality. But critics questioned the limited third-party support, the unreliability of Siri, and the high price. The price has been cut from $349 to $299 in the U.S., but Apple still has a lot of ground to make up compared with Amazon or Google.