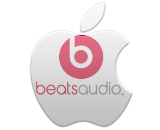 Apple issued an official welcome to Beats Music and Beats Electronics, indicating that the acquisition, announced in May, is now finalized. "Music has always held a special place in our hearts, and we're thrilled to join forces with a group of people who love it as much as we do," the statement on Apple's website read.
European regulators approved the purchase earlier this week, and experts predicted that U.S. approval would follow quickly after that clearance. Re/code noticed that the Beats website has also shown signs that the changing of hands is a done deal. One of the support pages states that online purchasing will go through the Apple Store and shared an updated privacy policy.
The transition hasn't been without a few bumps, as rumors circulated yesterday that Apple was cutting as many as 200 jobs from Beats. Apple rep Tom Neumayr clarified today that all Beats employees have received offers of work, although some have a defined end date. "We'll work hard during this time to find as many of these Beats employees as we can another permanent job within Apple," he said.
In related news, Apple is buying a roughly 13 percent stake in Beats from one of its investors. Vivendi, a French multinational media company, agreed to sell its share in the music company for $404 million as part of the takeover. It may be losing the share in Beats, but Vivendi still has a finger in the industry pie thanks to its ownership of Universal Music Group.