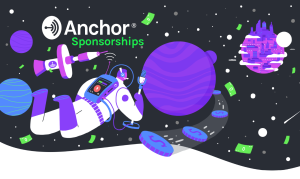 Free podcast production and hosting service Anchor is introducing a new monetization plan for U.S. podcasters. Anchor Sponsorships is an automated service which matches advertisers with podcasts, and invites podcasters to create host-read breaks and insert them in their new and past shows.
"Today we're streamlining the entire process of podcast advertising," the announcement states. "It's a new world for podcast advertising, and anyone can be part of it."
It all works by suggesting sponsors which have entered the program with an agreement to advertise in podcasts which match the advertiser's audience requirements and goals. The segmenting includes the show's subject matter, size of the audience (although this program is clearly intended to benefit the long tail of podcasting), location, "and more." The podcaster may opt into a sponsor match-up, or decline and wait for another.
Participating sponsors include podcast super advertiser Squarespace, and others including SeatGeek, Cash App, Dirty Lemon, Baboon, Living Proof, Roman, and The Citizenry.
Engaging in this plan activates it for all back episodes, if the podcaster chooses. That obviously increases the reach for the advertiser, and the potential earning for the podcaster.
Speaking of earning, Anchor is weighting the revenue share 70/30 in favor of the podcaster —  in other words, 30% commission to Anchor. Results are calculated on a CPM (cost per thousand impressions) basis, as is standard in most of digital  advertising. Anchor does not disclose the actual CPM number, but says it conforms with podcast industry standard (which could be anywhere in a wide range).
The creative is to some extent up to the host, per podcasting tradition. The advertiser does provide talking points — and presumably hopes the podcaster sticks to them, with a positive approach. Anchor does not disclose what quality control or rules are applied to the podcaster, or how brand safety is policed.
All in all, it is a long-tail monetization play by a podcasting service which serves amateur podcasters hoping to professionalize.