"Consumers spend 31% of their media time with audio, yet brands only allocate 8.8% of their media budget on audio, with 25% of brands missing from audio entirely." –iHeartMedia & WARC study
A newly released study from marketing/strategy firm WARC tells a story of missed opportunity on the buy side, and missing revenue on the sell side of audio. While 31% of the average consumer's media consumption is now audio, only 8.8% of the average media budget is allocated to audio, and 25% of advertisers do not invest in audio at all.
The listening trend crosses age groups, and is partly driven by consumer electronics advances like wireless headphones and smart speakers. "Consumers of every generation are spending more and more time with audio content across radio, streaming and podcasts," the report summary states.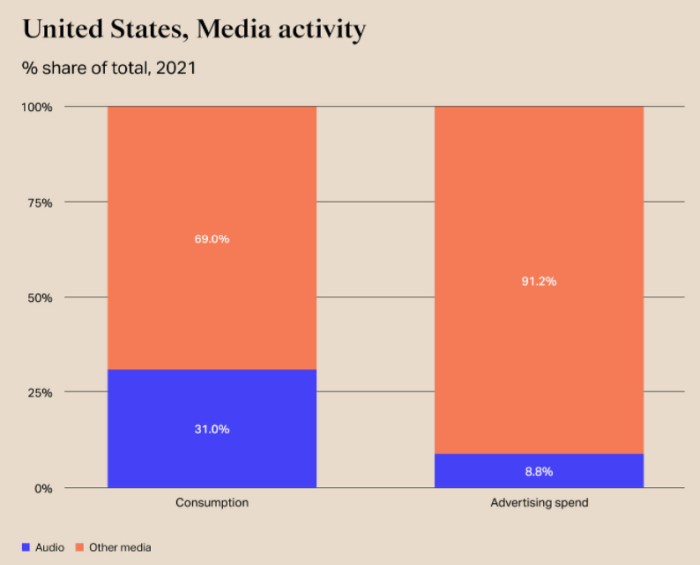 The study forecasts audio advertising spend in the US to reach $13.9bn this year, a double-digit recovery (+10.9%) from the pandemic's 2020 cuts. It also highlights the opportunity that exists in a mass-reach and high-engagement audio advertising market.
That's the diagnosis. Four key buyer types are itemized:
Audio Avoiders, the 25% of advertisers who do not invest in audio at all
Broadcast Believers, who have seen the benefits of radio and are beginning to delve into more forms of audio
Digital Only, those who have started to invest but are missing out on the full suite of audio options, particularly the 90% reach of broadcast radio
Cross-Platform Champions, who explore audio's full potential and continue to test, learn from and optimize their investments across platforms.
Of particular interest is the acknowledged fact that audio is not "a monolith," in the announcement wording. "There are different and critical channels within the audio segment, and they play different roles in the minds of the consumers that advertisers should take advantage of."
Three pillars of audio marketing effectiveness are noted:
Increases brand awareness: Audio delivers wide reach and high frequency. Nielsen Share Shift data shows that adding audio to a TV campaign improves performance by 20% whilst reducing costs.
Creates favorability: Audience members have close relationships with their preferred stations and platforms, audio boosts brand familiarity and consideration.
Sparks conversion: By delivering urgent calls-to-action at the most relevant times and places, audio motivates the actions and interactions brands require.
With all this, WARC says that audio is just getting started. "Audio's share of consumption is rising fast. But the channel is only at the sdtart of its innovation journey." The perspective is that people want to escape "visual overload," and will retreat even more into audio. Earbuds and headphones have been the #1 holiday gift for two years, we are told. Audio's projected growth "could offer a competitive opportunity for ambitious brands."
A couple of key stakeholder quotes:
Gayle Troberman, Chief Marketing Officer, iHeartMedia: "The Audio Investment Gap is the single-biggest growth opportunity for brands. With the growth of wireless headphones and smart speakers paired with in-car listening, audio is everywhere and consumers are listening in more places, more times throughout the day. But too many brands are on mute. Brands that right-size their audio investments and begin spending and innovating across radio, streaming and podcasts outpace competitors in finding new audiences, building brand affinity and driving sales." 
Paul Coxhill, Managing Director, WARC: "The changing role of Audio has been a relatively under-researched area of the Marketing Media Mix. This study, with iHeartMedia, starts to address that.  The study investigates whether there's a disjoint between consumer consumption and media allocation of audio as a channel. The findings are fascinating and demonstrate a real opportunity for brands to expand their brand reach and, if done well, their share of consumer attention by expanding the role of Audio in their media mix."
.