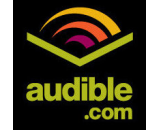 We covered the rumors out of the New York Post that claimed Amazon might be gearing up Prime Music to be a bigger threat to the rest of the streaming industry. Even though those speculations have not been confirmed, we are seeing signs that Amazon does have new programming efforts underway through Audible, the audiobook company it purchased in 2008.
Bloomberg reported that Audible has begun work with a wave of new talent including comedians, radio producers, and podcast producers to expand the content available through that platform. Audible also has job postings for nearly 100 positions ranging from engineers to marketers to lawyers to support the original content creation efforts. This push is being spearheaded by Eric Nuzum, who previously worked at NPR. "Audible has come to the conclusion that having their own original programming is strategically very important," he said.
These developments show Amazon's interest both in original material across its divisions (Prime Video has multiple shows that have turned heads at industry award ceremonies) and in meeting the demand of the podcast renaissance.