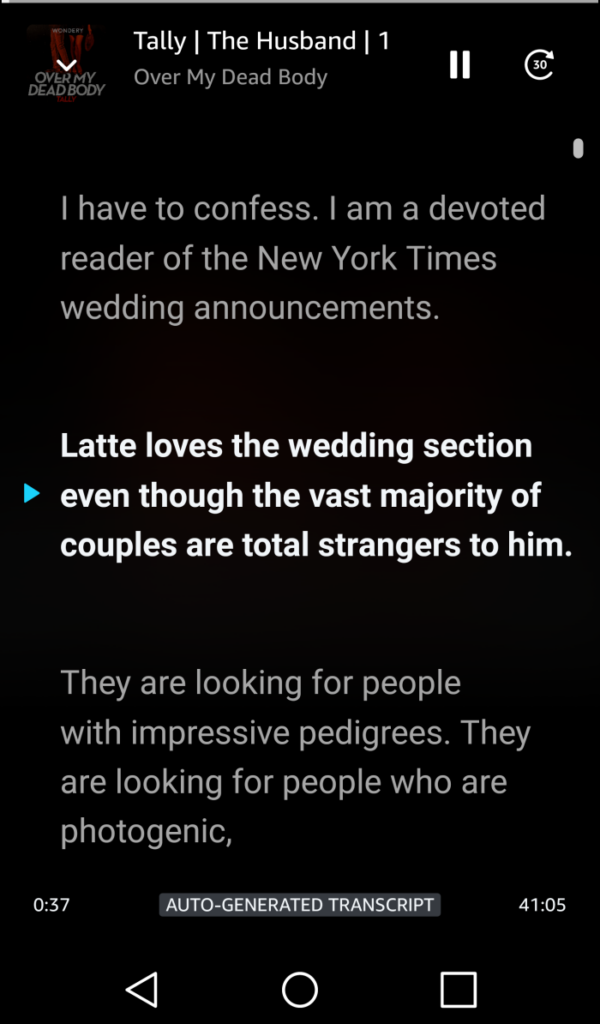 Amazon Music has introduced synchronized, navigable transcripts to selected podcasts. "Selected" in this case means original podcasts owned and operated by Amazon, plus some podcasts from Amazon Music subsidiary Wondery.
We found working transcripts in the mobile (Android) experience of Amazon Music, and did not find them in the browser version of the service.
The transcripts roll up the phone screen, pretty accurately synchronized with spoken words in the podcast. They are navigable in two ways. First, you can accelerate the scrolling with finger swipes, zooming ahead or behind in the transcript while listening the the podcast's normal playback. Second (and addictively) users can touch any part of the transcript and the audio instantly skips forward or backward to that point.
The experience provides an interesting and satisfying alternative to the sped-up listening which is available in many podcast apps. (Not available in the Amazon transcript experience.) Depending on the pace of speaking in a podcast, reading can be much quicker. We found it natural to scroll the transcript ahead and skip forward with finger taps.
In general, reading podcasts via transcription is a niche experience, but with some appeal which is being tested around the ecosystem. For example, audio/video production platform Riverside launched quick and no-charge transcription in a recent upgrade. The Podcast Reader takes a magazine approach to long-form podcasts.
The Amazon experience is not perfect. One example is that we did not experience transcription of ads. That's a pretty big no-win for advertisers, who might feel demoted in this experience. We also noticed that music underscoring can disrupt the transcription. Finally, in the episode we tested (episode 1 of Wondery's Over My Dead Body), recorded clips of spoken audio in that program didn't always get transcripted, especially if they featured crying or environmental noise in the field.
.