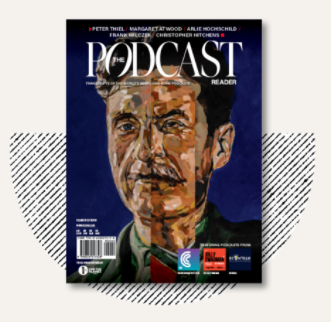 We like podcast transcripts, especially for serious and weighty interview shows. The Australian-based Dialogues Media Foundation is betting on a market for long-form, intellectual podcast conversations in print. So: The Podcast Reader has been launched.
It's a glossy, monthly (so far) print magazine with an annual subscription of $75 USD per year. A digital version is also available (PDF format) for $20/year.
The first issue offers at least three podcasts: The Jolly Swagman ("Refreshingly in-depth conversations with leading thinkers"), Conversations with Tyler (" esteemed economist Tyler Cowen engages with today's most underrated thinkers."), and EconTalk ("host Russ Roberts interviews authors, economists, innovators, and people from all walks of life"). Christopher Hitchens, Peter Thiel, Arlie Hochschild, Margaret Atwood and Frank Wilczek are all featured in Issue #1.
"Longform podcasts are an important new medium, but the excellent content they create is underappreciated," the magazine website states. "It's easy to be distracted when listening to them. Interesting details can be missed, especially when episodes are long, and if you're finding part of a conversation uninteresting, there are no practical ways to 'skim' the material. Our printed podcast transcripts make it easier to focus on key points and follow complex ideas."
Go HERE for info and to subscribe.