AM/FM radio has reached a new high — of listening off-radio. That is to say, listening via streaming is now 12% of American radio listening (13 years and older).
That carve-out is the highest ever established in the ongoing Share of Ear study by Edison Research, which measures time spent with every kind of audio. Share of Ear is a subscription product, and Edison occasionally releases key data findings in public both to advance general knowledge of the industry, and to promote the project. The large-scale consumer survey represents the U.S. 13+ population — whether online, offline, or "lightly online."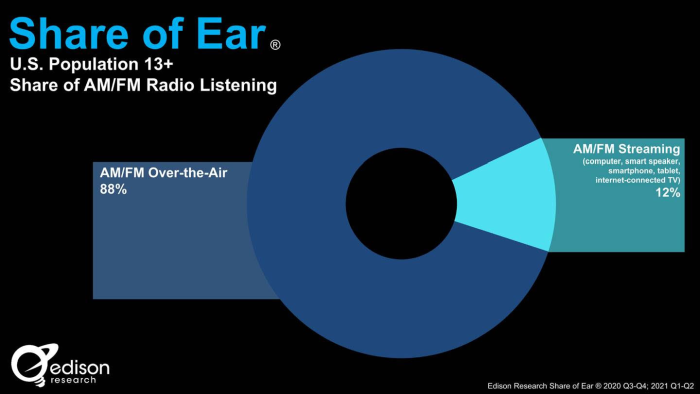 "To realize growth, radio has to capitalize on its content being available beyond just a traditional radio receiver," said Laura Ivey, Director of Research at Edison Research. "The challenge is how to convince listeners to follow radio content on different devices – radio not on 'a radio.' "
Edison notes that AM/FM radio content in the U.S. is now available through a variety of digital apps and devices, making radio listening possible on computers, smartphones, smart speakers, and through radio station websites, apps, and third party apps.