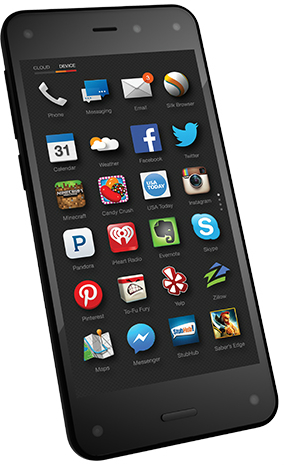 Amazon released its much-awaited Fire phone this week, stepping into competitive waters with Apple and Google on the hardware side. At the same time, Amazon is stabbing into the music-identification space dominated by Shazam and SoundHound, each of which gives users quick song recognition and the ability to store "finds" in partner music services like Rdio and Spotify. Amazon's most remarkable Fire phone feature is Firefly, which identifies music and much more.
We have written many times of the growing importance of music-ID apps to many millions of users. Amazon's foray into that space is not the first time media companies have attempted to steal some thunder from Shazam and SoundHound. Music subscription service Rhapsody introduced its own platform-specific song-recognition feature called Track Match. Facebook has developed music-matching technology for its apps. Apple will put Shazam's brain into Siri, the virtual assistant, in the next version of iOS, Apple's mobile operating system.
Clearly, identifying songs is an important part of music discovery, and the more effortless it is, the better for consumers.
Amazon is all about consumers. While becoming a device builder, Amazon has never lost its focus as a retailer — of both virtual merchandise (music, video) and physical goods (CDs, and nearly everything else under the sun).
The breadth of Amazon's business, and the emphasis on transaction, apparently powered the company's vision of Firefly. Firefly works similarly to Shazam and SoundHound insofar as it identifies music heard anywhere. One new dimension is that firefly can also identify video. Furthermore, Amazon claims that Firefly can recognize and identify objects, and match them to Amazon merchandise.
With all this, Firefly turns Fire phone into a kind of in-store scanner that works anywhere in the world, facilitating and streamlining purchases to an unprecedented extent. (Future users will have a better idea how well it works after the phone is released in July.)
On the music side, Amazon owns a direct connection to a gamut of music-listening and music-ownership formats that will probably be hooked into Firefly song matches. Amazon sells CDs, downloadable files, and Amazon Prime subscriptions which now include the Prime Music streaming service. Shazam and SoundHound both partner their way into indirect purchase revenue, while Amazon is building an ecosystem of direct linkage from its virtual media store into any location an Amazon customer can take a phone.
Competitively, and battle is for Amazon's gigantic customer base, most of which uses Apple and Android mobile devices. That vast distribution platform is an important Shazam/SoundHound's advantage.