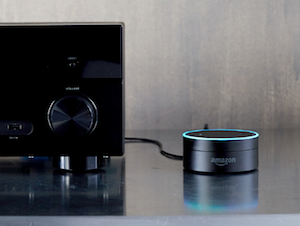 Amazon has created a new Echo product that's smaller, cheaper, and designed to amp up your music options. The Amazon Echo Dot has the same type of features as the company's original voice assistant: control smart devices, check the weather, fetch information, and play music. But the original Echo is a standalone object that doesn't have the best speakers. The Echo Dot is intended to be connected to a bigger set of home speakers, so it will still hear commands from anywhere in the room, but asking it to play music will sound better.
The Echo supports several streaming services in addition to Amazon's Prime Music, such as Spotify, Pandora, iHeartRadio, and TuneIn. Echo Dot will have the same musical functions.
For now, Amazon is only making the Dot model available to Prime members who already have the larger Echo model. There's no word from Amazon yet whether the device will get a broader release. But if you haven't got Alexa in your life yet, the Internet is full of tips for finding ways to work around that restriction and pre-order the Dot. The device costs $89.