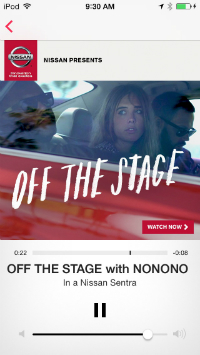 adStream is a journal of ad-stalking and interesting commercial sightings in online audio services.
---
It had been a while since we'd prowled through iTunes Radio looking for ads, so a revisit was in order. We fired up iTunes Radio on a 5th-generation iPod, and our hunt was quickly rewarded with a video placement by Nissan, part of its "Off the Stage" campaign. It's a video series of musician shoots inside a moving Nissan Sentra, in which the band plays an acoustic version of a song while the car is driving along.
In this episode, the band is Nonono, playing "We Got Hungry Eyes." We are uncertain whether the Sentra comes across well with a three-member band squished into the back seat in apparent discomfort. But the affiliation of a car with an indie band is a solid branding tactic, and running the videos in online radio is a no-brainer.
Here is the video:
iTunes Radio presents the video politely. There is an option to play it later, and, of course, a link to a Nissan page where you can configure a Sentra. The commercial interruption occurred while listening to the Pure Pop station, always prominently featured in iTunes Radio.
Nissan presents the whole "Off the Stage" series on YouTube (channel: nissanusa). The comments which accompany the Nonono video show appreciation for the music, and weariness with the campaign. When we looked, the top comment declared: "OMG I AM SICK OF THIS AD ON ITUNES, STOP IT NOW." Point taken, but we think the campaign's a good one.