iHeartRadio re-launched its mobile apps in June, and more recently brought a new version of its web browser experience to market. We tested the experience, and found it significantly cleaner and more conducive to exploring stations and discovering music.
When we talk about "stations," generally and especially in iHeartRadio, it is a double meaning — streaming terrestrial stations, and online radio stations based on artists or songs plugged in by the user. In addition, iHeart furnishes house-built genre and artist-based playlist stations. The key change of the new desktop site is a blurring of lines between type of station, and an increased dedication to providing the user with desired sounds regardless of originating platform.
We asked Darren Davis, President of iHeartMedia, for his summary of the redesign. "The goal is to get users more quickly into a LISTENING experience," Davis told us in an email, "and to usher them more seamlessly from one listening experience to another. As the 'all in one' service for live radio AND custom radio, it's important that we get users to discover and enjoy BOTH."
The site boots up for logged-in users with a For You page, as in the mobile apps. That page includes previously chosen listening (for us, a Joe Sample-inspired station) and recommendations based on listening history.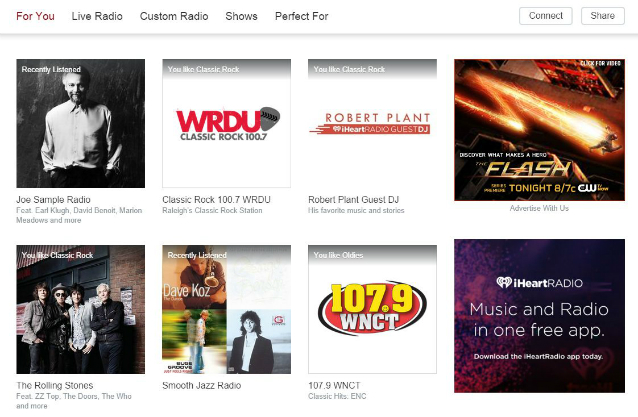 Rather than revisiting old favorites, we dove into the genre list, selected jazz, and fired up a Tony Bennett station. As usual, the playlist started with three consecutive Tony Bennet songs. Above that list was a promotion for a radio station on which the jazz crooner is "popular." The station was B98 in Wichita (KRBB). We clicked over.
That recommendation might not be quite right for jazz — the station plays variety, but we hear more Kelly Clarkson, Cyndi Lauper, and Train than Tony Bennett and his ilk. But we liked the surrounding assets on the station page: videos, recently played lists, photo galleries.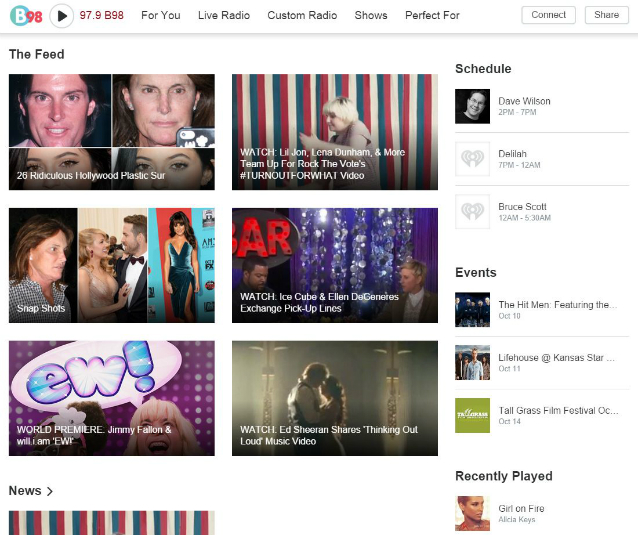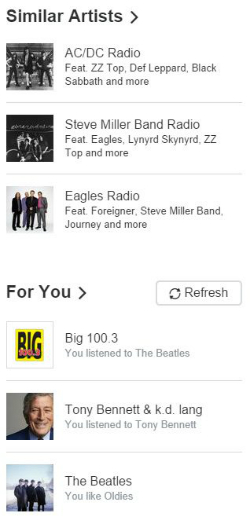 When we clicked an Aerosmith link, we were swept away to an online-only Aerosmith station. A sidebar of that page suggested related artist stations, terrestrial streams, and other playlists tuned by our listening history.
So it goes, surfing among different types of station, without regard to type, clicking things into the Favorites collection for future reference. the result is a personal trove of enjoyable future listening which demonstrates the multiple meanings of "radio."
iHeartRadio is not unique in the breadth of its platform, but with its recently announced 50-million monthly users, the product team appears to be continually sharpening the experience to remove silos and give its audience maximum choice.