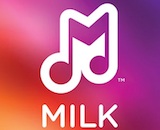 Samsung's Milk Music streaming service quickly rose to the top of the app charts after launching in South Korea. Within six days of launching in the company's home country, Milk reached the top of the Google Play free app category with more than 500,000 downloads.
Milk Music is a free streaming service for owners of Samsung's Galaxy line of mobile devices. The Slacker-powered service has 3.6 million songs in its library.
Asia Radio Daily reported that the service is expected to remain free for listeners, even though Milk Music's contract with the Korea Music Copyright Association stipulates that it should become a paid service by Oct. 10. Samsung said it will pay those streaming charges to a subcontractor instead of individual customers. The addition of a premium tier in the U.S. indicated that Samsung may have some unique ideas about exactly how this service will work and whether it's expected to ever generate revenue. The app hasn't made as big an impact on the U.S. streaming market, although it does have a respectable 4 million downloads to its name in the six months since launching.