adStream is a journal of ad-stalking and interesting commercial sightings in streaming audio services.
---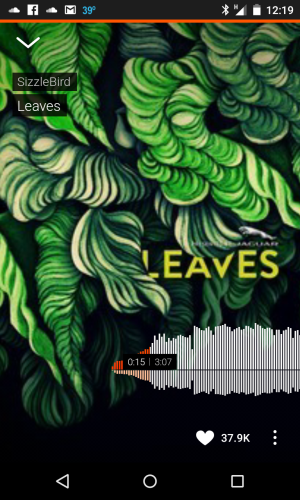 This week SoundCloud marked a milestone in its relatively new advertising program with an announcement that it has paid out $1-million in ad revenues since the program launched in August. (Splits were not disclosed.) It's a good moment to take a look at one launch advertiser, Jaguar, in the service.
Jaguar is maintaining a native presence in SoundCloud in a couple of ways. First, the company has a SoundCloud page for general promotion. Many of the sound clips feature car noises and user testimonials. But at the top of SC's profile is a music track — Emile Sande, who has collaborated with Jaguar marketing (for example, this performance on the Thames in London as part of a jaguar model launch). The SoundCloud track, "Feels Like," was debuted at that launch concert (for the Jaguar XE).
Jaguar is also sponsoring music tracks, notably a piece of electronica by SizzleBird called "Leaves," which was premiered by Jaguar. We saw it pinned to the top of SoundCloud's "Ambient" category of the Explore feature, which typically spikes the popularity and plays of included tracks. (SoundCloud has told us in the past that Explore is assembled algorithmically based on tags and popularity metrics, but sponsored posts can be placed there deliberately.)
When the Explore placement launched for marketers, RedBull and Squarespace reportedly bought into it, but we saw only Jaguar's prominent placement. The Jaguar brand still appears on the "Leaves" graphic, as seen in the image here.
Non-native pre-roll advertising is also offered in SoundCloud's program. We covered one instance here. Like some YouTube pre-rolls, the ad can be skipped after a set time — 15 seconds for SoundCloud.