adStream is a journal of ad-stalking and interesting commercial sightings in streaming audio services.
---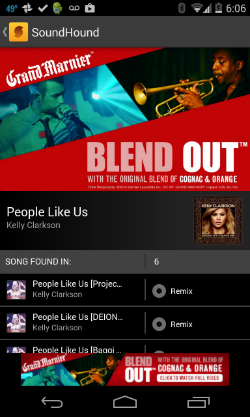 Music-ID app SoundHound has created an intriguing brand integration with Grand Marnier, in which the DNA of certain songs is revealed — e.g. samples, remixes, and covers. The campaign is called "The DNA of Music," and we spotted it surrounding a Kelly Clarkson song ID'd in SoundHound.
This looked intriguing for users (who can learn a great deal about the ingredients and spin-offs that sometimes go into and surround a hit song) and the advertiser, which has an interesting angle.
We talked to Cheryl Lucanegro, VP of Sales at SoundHound, to get the back story. She talked about the mixing and blending that is part of music and Grand Marnier's liquor brand.
"Grand Marnier has a mission," Lucanegro said. "They talked to us about 'blending.' Grand Marnier is a mix of two ingredients (cognac and orange), and they were trying to find creative ways to talk about blending. Music is one of their pillars. In music, you can think of what goes into a song — samples, covers, remixes, etc., and sometimes you don't know about that. There is an art to blending in music. This is a perfect way to collaborate, form a partnership, and showcase the Grand Marnier brand."
Lucanegro told RAIN the campaign will run until February. We discovered that the ad execution (along with the music information it reveals) can be invoked by searching for tracks. So you don't have to wait and hope for a serendipitous match. Searching for Kelly Clarkson's "People Like Us" is one place to start.