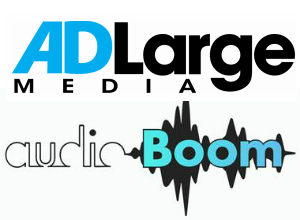 Ad-repping firm AdLarge Media and on-demand audio platform AudioBoom have signed a partnership that gives AdLarge exclusive representation of AudioBoom advertising opportunities for its quickly growing U.S. audience, starting in the new year.
Stuart Last, AudioBoom's VP of U.S. and Canada, told RAIN News, "We first spoke with Jay this summer, and right from the get-go felt like a great partnership that can really help us in the U.S. We're building scale there and partnering with as many content partners as possible. AdLarge will help us build value into that."
Stuart Last noted that about 30% of London-based AudioBoom's listening audience is in the U.S., with about 35% in the U.K. and rest spread across many regions.
Jay Green, VP of Digital Sales and Content Partnerships, told RAIN, "Spoken word content has never been stronger. AudioBoom provides a fantastic opportunity to put listeners and marketers together. We're really excited about what we can do for our brand advertisers with this partnership."

Both executives stressed a close-knit quality in the partnership, noting that the two companies are working together on technological innovations to grow the content, that might be announced in 2015..
Content is a key word in the AdLarge lexicon, as expressed by Jay Green: "People are hungry for great programming. Great programming will always win out. We've seen that with podcasting; there is a clamor for it. On-demand talk is an interactive medium. When your brand becomes part of that, it really is second to none. The advertising demand for talk continues to grow."
In-program native advertising will remain the purview of the content creators. AudioBoom and AdLarge will develop the before-and-after advertising opportunities. AudioBoom users can expect to hear pre- and post-roll ads. The AudioBoom app houses an intelligence layer that learns about the user's preferences over time — a kind of Pandora for spoken-word audio.
From Stuart Last: "We're building an approach that learns what the listener likes and serves them that audio. Pre- and post-roll ads are key to that experience."
At the same time, AudioBoom employs a revenue-share model with content partners, so getting more money flowing through the audio is a win-win from that perspective. "The partnership with AdLarge creates a great setup in that regard," Stuart Last told us. "We now have an ability to give content providers a monetization solution they didn't have before."
"We want to become the go-to place for on-demand audio. With AdLarge we can do that in 2015."