Acast is announcing the Acast Marketplace Virtual Storefront. It is a self-service campaign planning tool which gives advertisers and agency buyers a way to browse podcasts and their targeting characteristics, before engaging the Acast sales team.
Here is a screenshot provided by Acast: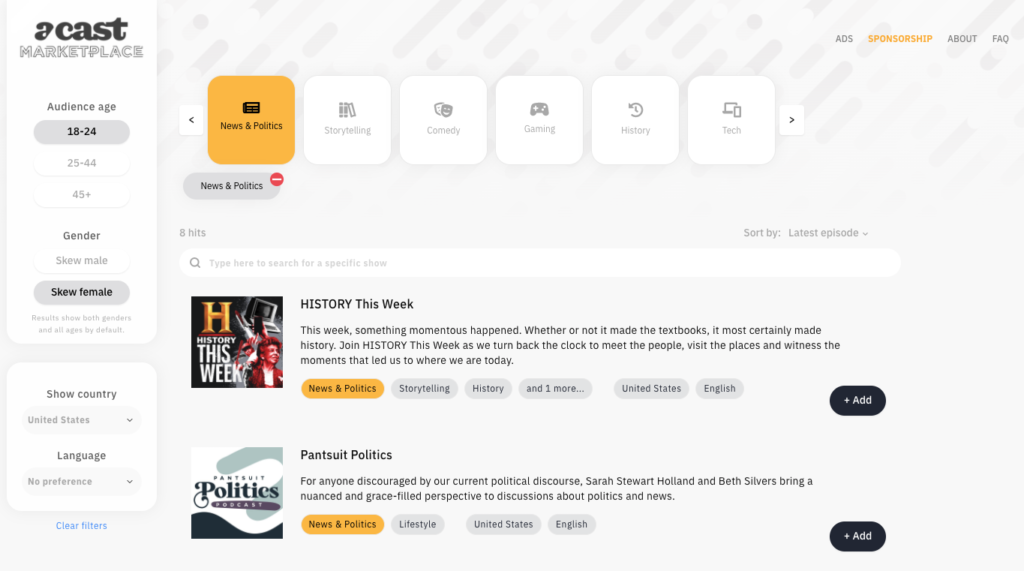 Users of the Virtual Storefront can filter into the marketplace by audience demos (e.g. age, gender, language) and podcast category.
Acast is taking the opportunity to claim it has generated nearly $100-million in revenue to podcasters around the world. The company has run campaigns for more than 3,000 brands.
The Virtual Storefront obviously gives the buyer more hands-on control than previously. "This new 'front door' into the Acast Marketplace will help us connect even more advertisers with podcasts, as well as attracting and educating new brands in podcast advertising — which in turn will drive more revenue for our creators," according to Global SVP of Sales Joe Copeman. "It's a digital extension of the incredible work our sales team does on our podcasters' behalf every single day, helping advertisers understand the breadth and depth of Acast's content and the unique audiences our shows can reach."