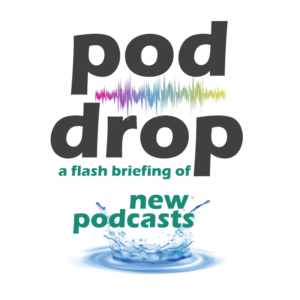 Pod Drop features new and returning podcasts. Today — A TV show history involving the whole cast, how historical figures dealt with epidemics, and a show about forgiveness. REMEMBER: Pod Drop is a podcast too! A 5-minute audio treat. One listener called it "A great show: informative, short and to the point." Listen to the latest episode HERE.
---
An Oral History of The Office
(Propagate / Spotify)
Fifteen years ago, the American television landscape changed forever with the launch of a new series that struggled initially, but became one of television's most beloved and enduring comedies. This show pulls back the curtain on creating this unstoppable force in American popular culture and why it continues to resonate with new audiences today. Hosted (in character) by Brian Baumgartner (Kevin Malone).
[GOOGLE]
trailer:
Quarantine Genius
(Quaragenius)
A terrific history and culture podcast, expertly written and narrated. How did Shakespeare cope when theatres shut for plague? How were Virginia Woolf and TS Eliot affected by the Spanish flu? How did Frida Kahlo's experience of polio trigger her artistic relationship with disease? Over the course of 8 episodes, 'Quarantine Genius' investigates historical epidemics from the perspective of cultural and scientific figures.
[APPLE]
excerpt:
The Gift of Forgiveness
(C13/Entercom, Headspace Studio)
The Gift of Forgiveness explores what forgiveness means, how it affects us mentally and physically, and what it takes to truly move on. Hosted by Katherine Schwarzenegger Pratt and inspired by her book, The Gift of Forgiveness, these are the true stories of forgiveness from the people who've lived them. You'll hear exclusive interviews from some of the people featured in Pratt's book, and in-depth conversations with celebrities — like Sean hayes in the first episode. Guests share their own stories of forgiveness.
[APPLE]
trailer:
.