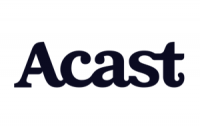 Calling it "an immersive sponsorship experience," global podcast company Acast has introduced the Sponsored Stories ad format, which can be up to four minutes long. The company says advertisers get high production values, more opportunity for storytelling, and a greater share of voice within ad breaks. (We'd be surprised if any podcast put even a single traditional ad next to a four-minute Sponsored Story.)
This sponsor opportunity is available via dynamic insertion across Acast's entire back catalog presently, across 25,000 shows. The messages are not necessarily contextually pertinent to the shows, but because of the dynamic insertion they remain current even in long-ago episodes.
The spec is 90 seconds to four minutes. Acast invites sponsors to be flexible, creative, and adventurous, with a focus on storytelling which lives up to the product name.
Acast provided RAIN with examples currently in rotation. They all use an interview format in which the podcast host draws a topical line from show to sponsor, then conducts a brief conversation. Following is one Sponsored Story example. The sponsor is Department for Education (DfE), and it is placed in the Abroad in Japan podcast:
Acast notes that the DfE's sponsored Story campaigns (which ran in multiple podcasts) met the objective of promoting the teaching profession; Sophie Gray, Assistant Campaign Manager for the DfE said the results were "above and beyond anything we've tried on audio before."
Advertisers get production assistance from Acast Creative, the company's in-house creative ad solutions team, started in 2018. Last year that division brought in $6-million of business. (And they are hiring.)
.