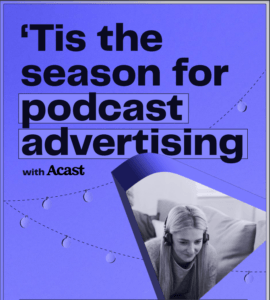 Acast has released an informative guide to brands who are approaching the holiday buying season: "Tis the season for podcast advertising with Acast." (It is HERE.) While an unabashed promotion of Acast's self-serve platform, the guide delivers platform-agnostic guidance for getting a grip on the complex holiday season.
Statistical insights kick off the learning experience of this presentation:
A calendar of key holiday moments meant to galvanize advertisers to think of campaign themes around key marketing phases like "The first big Christmas TV drop" (October), "Podcasters start talking about Black Friday" (early November), "Time to buy the Christmas Tree" (last week of November, evidently), and "Work Holiday Parties are in full swing" (when, we are told, most people are searching for "what to wear to a Christmas party for work.")
Lest anyone think Acast is engaging in mere cultural supposition, a list of research resources calls out 28 references to survey work conducted by Acast (naturally) Podchaser (an Acast company), and original research in Google Trends (that's where the "what to wear" statistic comes from).
Spurring advertisers to plan holiday marketing around various touchpoints is part of this presentation, followed by how to make the marketing effective. A few mandates:
Go full funner across the holidays: The holiday season isn't just one day, it's made up of multiple moments and consumer mindsets for advertisers to tap into. We recommend different ad formats, targeting, and messaging for each stage of the marketing funnel.
Consider your targeting options: Reaching the right audience, at the right time is crucial for your message cutting through. Acast offers more ways than ever to speak to listeners who want to hear from you. From comprehensive audience segments powered by Nielsen's proprietary data, to contextual targeting solutions to deliver ads when most meaningful— we see podcast advertising 3X as effective when reaching situation-relevant consumers.
Measurement and tracking: Unwrap the performance of your holiday podcast campaign through Acast's measurement solutions, including tracking the ROI of your campaigns with pixel-based attribution. Our preferred attribution partner Podscribe is available at no extra cost, so you can easily measure efficacy across the full funnel including website visits and conversions. Add further measurement through promo codes and vanity URLs to capture the full picture of campaign effectiveness.
All this is followed by a recipe for creative success, full of guidelines for conceiving and producing effective podcast ads. There's also a guile to previously published Acast guides for marketers.
Again, the free download is HERE.
---