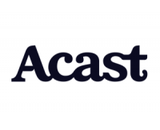 Podcast platform Acast is launching a new ad campaign for its services, and is keying it to "First Words" — the literal first words uttered on some of the biggest shows in its network of 35,000 podcasts.
The gambit is meant to inspire people to start podcasts, and features existing shows Off Menu, The Adam Buxton Podcast, Forever35, Dope Black Mums, The Little Dum Dum Club, and many others.
Videos are part of it — in them, podcasters are challenged to recall their first words, and interviewed about how they got started.
This campaign is developed in partnership with the Weirdo agency, and is running across social platforms, and even appears in Acast's own podcast inventory.
Lizzy Pollott, SVP Marketing Communications and Brand at Acast, said: "Even the longest podcasting journeys start with just one step. Every podcaster — from Adam Buxton to your friend down the road — has had to start somewhere, and take that leap. Our new campaign hopes to inspire people to get started with their show and find their voice and audience."
Acast is HQ'd in Stockholm, and operates nine local subsidiaries including UK, US, Australia, Norway, France, Germany, Ireland, Mexico and Canada.
.