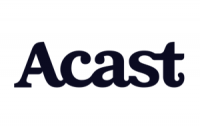 Acast is sending around a brag-worthy announcement that its programmatic ad sales for podcasting grew 215% last year.
This announcement will get a lot of attention because of some degree of ingrained resistance to automated and dynamically inserted ads — the podcast medium grew on an diet of live host riffs of ads, baked into the files. Dynamic insertion is not brand new in podcasting, but this level of growth will be viewed as some validation.
No dollar amount is pinned to this announcement, but Acast projects that programmatic advertising will represent "upwards of 10%" of its total revenue in 2021.
Acast has been keen to develop a programmatic line of business, and started down this path over three years ago. The company recently hired Elli Dimitroulakos as Head of Automation, Americas. Acast works with a number of marketplaces within DSPs (Demand Side Platforms, where buyers meet programmatic inventory).
Another pertinent hire, in November 2019, was Michael Bayston, Global Head of Automation.
Acast inventory was listed for greater discoverability in three major DSP marketplaces in 2020 — The Trade Desk, DV360 Marketplace, and DSP Verizon Inventory Storefront — and became the first company to make podcast inventory available through FreeWheel's Strata platform, bringing simplified, automated buying to more than 1,100 US advertising agencies.
The company also developed new, enhanced targeting options for advertisers in 2020, launching contextual ad tech that uses artificial intelligence and transcription to place targeted ads into topically relevant podcast episodes. This allows advertisers to reach audiences based on specific content parameters relevant to their campaigns and intended goals.
"Programmatic buying was integral to scaling up Acast Marketplace, the home of podcast buying globally, in 2020," Michael Bayston said. "But the most important player in all of this is the podcaster, so we place a lot of focus on controlling the quality of ads that run in our creators' shows — balancing revenue with listener experience."
.