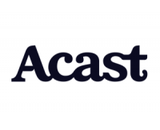 We have heard of a coming elimination of third-party cookies for years. The threat remains top-of-mind for many media segments, and global podcast company Acast now announces a cookie-free targeting solution for advertisers. The new capability is called Predictive Audiences.
Partnering with Proximic by Comscore, a division of audience measurement giant Comscore, Acast promises advertisers "cookie-free audience targeting" globally.
The targeting is based on behaviors such as personas, TV viewership, gaming habits, retail purchases, and more, we are told. Comscore's contributions to this solution include gigantic first-party data sets and predictive models based on machine learning. In other words, existing data plus AI.
"The podcast advertising industry has experienced rapid growth in recent years, but has been challenged to harness its full potential largely because innovations in ad tech still lagged behind more traditional media forms," said Lee Blickstein, VP Targeting Solutions at Proximic by Comscore. "With Acast's global platform, agnostic reach, and Proximic by Comscore's Predictive Audiences capability, podcast advertising is prepared to continue growing in both scale and efficiency despite the continual loss of access to persistent identifiers."
"For nearly a decade, Acast has been a pioneer in podcasting and ad tech innovations. This partnership with Proximic by Comscore complements Acast's current third and first party targeting capabilities while enhancing scale, performance, and efficiencies for advertisers around the world," said Elli Dimitroulakos, Global Head of Ad Innovation at Acast. "On a global scale, this partnership is significant in further improving addressability throughout the entire podcasting landscape."
Predictive Audiences is now available to advertisers in each of Acast's 15 markets around the world.
---