In its newly released 2023 Podcast Trends Report, Spotify seeks to tease out indicators of major cultural and industry trends, and track those trends to podcast listening behavior. The metrics are supplied by Spotify's subsidiary hosting and technology platform Megaphone.
"More than anything else in today's world, conversation is the critical building block for culture community, and progress. today, podcasts are a key driver of social and cultural conversations." Emma Vaughn, Global Head of Advertising Business Development & Partnerships
The report is shaped into three main sections.
A year in culture
"No shortage of zeitgeist moments," Spotify says. This section analyzes podcast listening related to a few of them, including Beyonce's Renaissance tour, the Eurovision Song Contest, release of the movie The Little Mermaid, the Barbie movie, the NBA All-Star Game, the Met Gala, and others.
Each event is accompanied by an infographic to visualize podcast listening spikes. Below, three high points related to the Beyonce tour: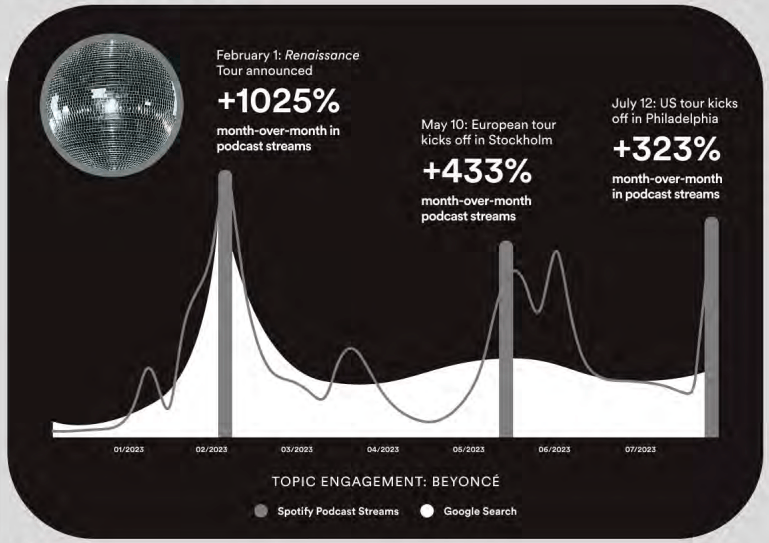 The impact for podcast advertisers and publishers
The second section delivers a few dense slides with podcast advertising metrics. In a slide about conversion rates by ad position, we learn that pre-rolls (indexed at 1.1%) perform better than mid-rolls (0.8%). More impressive, attributed purchasers by advertised website visiting indexed 10.03%, compared to the benchmark 0.1% — a 101% attribution lift.
Analyzing top age demographics according to national market, Spotify found that older listeners (45+) showed the highest growth: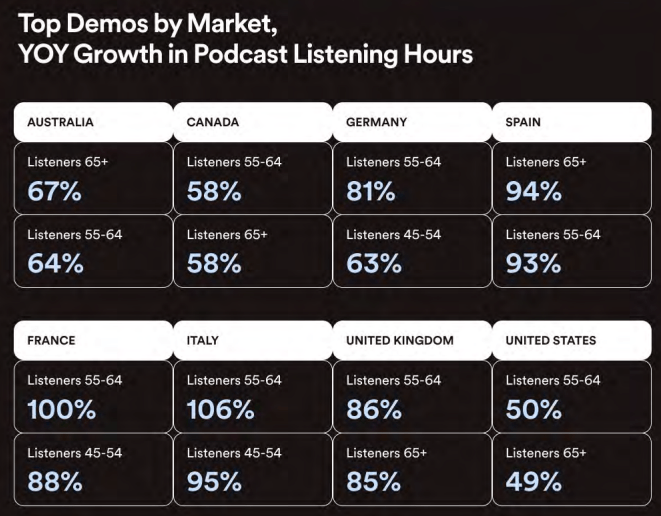 Takeaways
Spotify lays out several main points. Podcasts are constant companions to many people, and their creators have a deep connectivity with the audience. Advertising fosters an intimate connection of brand to listener. An "always on" approach is best because cultural phenomena are impossible to predict. The graphic below details all this. The report itself is free to download, HERE.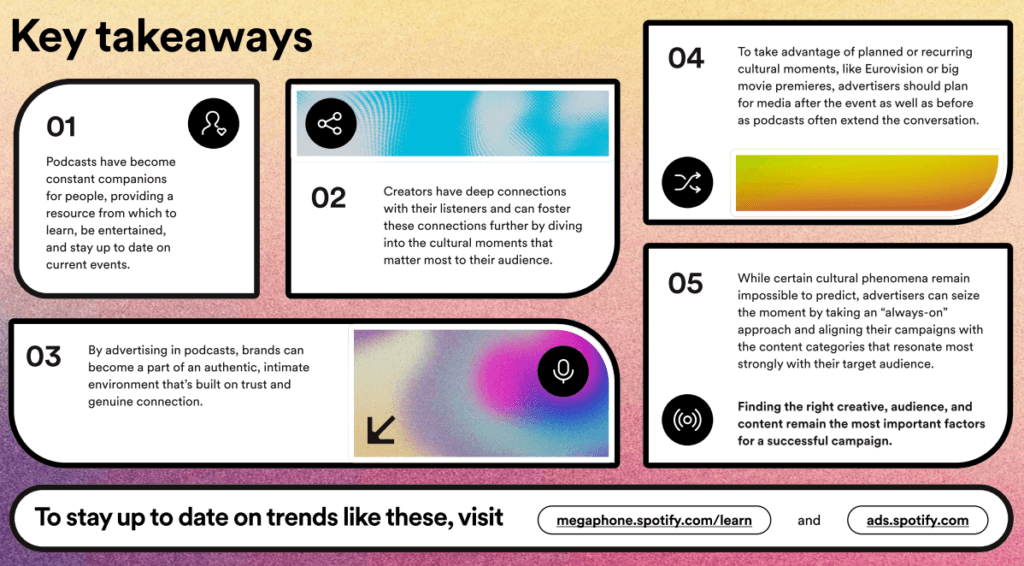 ---