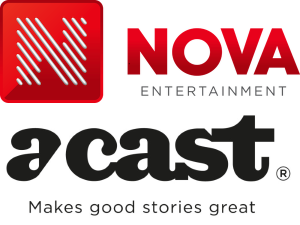 Swedish podcast hosting and tech company Acast, and Australian radio and entertainment group NOVA, have joined a strategic alliance to represent their combined podcast portfolios in the Australian ad market.
That portfolio contains over 2,000 shows serving 3.5-million monthly listeners locally, and 56-million global listeners. NOVA is now the exclusive seller in Australia.
"Our strategic partnership with Acast is the next step in Nova Entertainment's leadership in the rapidly growing digital audio sector," said Cathy O-Connor, NOVA Entertainment CEO. "As Acast's exclusive partner, we now represent the largest digital audio network in Australia in terms of weekly audiences with best in class ad insertion technology, analytics and native content opportunities for Australian advertisers."
Acast's platform exclusively hosts The Financial Times podcasts, and the hit show My Dad Wrote A Porno (over a million Aussie listeners per month), and many others.
According to Acast's newly appointed country manager in Australia Henrik Isaksson, the agreement enables Acast's expansion into a dynamic market. "Acast has achieved great success in Europe and in the US over the last 3 years bringing together podcasters and advertisers," Isaksson said. "We are excited to replicate that in Australia with Nova and bring podcasting to the next level here. Being able to provide brands and agencies with unique advertising solutions in podcasts is something that has been missing in the Australian market."
NOVA Entertainment, whose radio holdings make it one of the biggest radio groups in Australia, also owns and operates a podcast portfolio which includes the popular Modern Babies. New shows are in production according to today's announcement, which is timed to coincide with OzPod, an Australian podcast festival. NOVA also runs the Podquest talent search program.