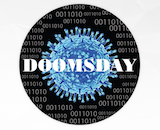 Australia-based Nova Entertainment hosted a contest to help the discovery of new podcasts in the country. The winner of the company's second Podquest competition is Wendy John with her show Doomsday. Her prize is a production and marketing grant, along with access to Nova's production facilities and distribution expertise.
The show is about people preparing for a potential apocalypse. The first episode, which releases September 5, features celebrity doomsday preppers David and Lisa Oldfield.
"Doomsday stood out to our judges," said Jay Walkerden, head of podcasting at Nova. "Wendy's ability to give us an insight into the minds of Doomsday preppers in a fun and engaging way while showing respect to the content providers was exceptional. We are excited by this very different podcast."
The Nova contest program will be getting a third series to put the spotlight on another up-and-coming podcast project. It is unrelated to the Radiotopia contest of the same name, which recently crowned its first winner.