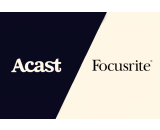 Acast announces its teased partnership with audio equipment make Focusrite, unleashing details today. The new relationship aspires to raise podcast audio quality for producers equipping their shows (by selling them new Focusrite gear), and saving them money post-production with free use of Acast's mid-level hosting plan for six months.
The details involve a Focusrite product launch. The company is well known for its Scarlett microphone interfaces, used to connect high-end XLR mics to computers via USB. These devices are standard equipment for any podcaster not using a native-to-USB microphone like the Blue Yeti.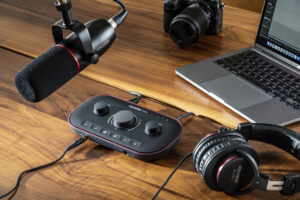 The new product is called Vocaster, and it's a combination interface and preamp. Preamps are especially useful (and in most cases necessary) with dynamic microphones, which need a gain boost in between the microphone and the recording software. Focusrite is making equipment bundles which star the Vocaster and include mics, headphones, and more, called Studio Packs — so many, in fact, that listing them off here is impractical. (But you can see details HERE.)
Acast's so-called Influencer plan is in the deal. This hosting subscription retails for $14.99 per month, and sits between the free "Starter" plan and the higher-end "Ace" plan. Both Influencer and Ace offer monetization options. Podcasters save $90 over six months of free hosting when participating in the Focusrite promotion.
Elana Gurevich, Product Marketing Manager at Acast, said: "Focusrite is the best in the business when it comes to audio tech, and our partnership gives creators the best possible start to their podcasting journey. We believe every podcaster, from any background, should be able to find their audience and make money from their craft, on their own terms — so we're providing the tools and resources to help them do exactly that.
Nicholas Howlett, Head of Brand and Marketing for Focusrite, said: "Focusrite puts creators' needs at the forefront of every decision we make – an ethos we share with Acast. By bringing our two brands together, we're learning how to better serve our customers and ultimately see more creators empowered to share their stories. This partnership will see more podcasters — and more podcasts — emerging with better quality audio than ever before."
.