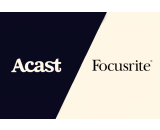 Acast is teasing a quasi-announcement, timed with the Podcast Show happening in London this week. In it, we learn that Focusrite and Acast will do something together, sometime.
Focusrite is best known for its microphone interfaces — small pieces of equipment which connect studio-quality mics to computers, via USB,  for recording. Any podcast which doesn't use a USB microphone (like the venerable Blue Yeti) must have an interface. Focusrite's best-known entry in that field is the Scarlett line whose models can accommodate one or more microphones.
Acquisitions are not teased in this manner, so we speculate a discount program whereby Acast hosting clients can acquire, or upgrade, their gear less expensively. The announcement says the deal "will provide podcasters with access to the best possible technology and innovation from the two audio experts."
"Acast wants to make it as easy as possible for anyone who has a voice to start their own podcast," said Marie Abesamis, Global Director of Business Development and Strategic Partnerships at Acast "Focusrite produces some of the best audio tech around, so partnering with them helps give our podcasters access to even more of the tools they need for success."
More details early next month, we are promised.
Nicholas Howlett, Head of Brand and Marketing for Focusrite, comments: "Focusrite puts creators' needs at the forefront of every decision we make – an ethos we share with Acast. By bringing our two brands together, we're learning how to better serve our customers and ultimately see more creators empowered to share their stories. This partnership will see more podcasters — and more podcasts — emerging with better quality audio than ever before."
.