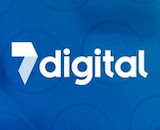 7digital has been making leadership changes in an effort to improve its financial situation. After a shake-up in the board of directors, the B2B music company has announced that its CEO and CFO are stepping down after just a few months in those roles.
Two new members joined the 7digital board earlier this week. Tamir Koch, head of eMusic, will be the non-executive chair of the board. In assuming this post, Koch put the focus on applying eMusic's recent efforts in blockchain technology at 7digital. "The company provides the perfect platform with which to partner and build the blockchain technology that we at eMusic have been working on over the past year," he said in a statement. "I envision blockchain as the way to align metadata within the industry, organise direct royalty payments, and create all-new economic models between fans and artists. I aim for 7digital to be at the forefront of those developments."
Today's changes are the exits of CEO John Aalbers and CFO Julia Hubbard. Both execs joined 7digital in March, and they will assist for a few months with the transition to new leaders. Current COO Paul Langworthy is rising to the CEO post and eMusic CFO Michael Juskiewicz will take the same role at 7digital.
"Julia Hubbard and I have reached the conclusion, and the Board agrees with our recommendation, that it would be in the Company's interest for me and Julia to step down," Aalbers said. "Alongside other cost-cutting initiatives already in motion, this will save the company close to £1M per annum, reducing cash burn in the most effective way."
7digital needs to raise £4.5 million in the coming weeks to escape being placed into administration.