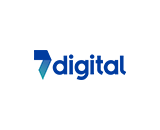 7digital announced that it has added its first MQA, or Master Quality Authenticated, content. As a result of the partnership with MQA, 7digital's B2B clients will be able to access indie label content at the high-res audio format beginning Jan. 11. MQA music will be available for download by 7digital D2C web store and mobile app customers. 7digital powers the download store for Onkyo, and said that it will be incorporating MQA technology into its onkyomusic store from Jan. 8. According to the press release, 7digital is the first digital music platform provider to supply MQA via download and streaming.
"A great deal of work has gone into making MQA ready for our commercial partners and we are excited to be serving up this advanced and necessary technology to our existing and prospective clients," said Pete Downton, 7digital's chief commercial officer. "2016 will be the year that 7digital and MQA offer master quality, high resolution music to the world's digital services, thereby eradicating the need for music fans to sacrifice quality for convenience."
MQA is making waves at this year's CES show in Las Vegas, along with other technology focused on high-res audio and sound quality. 7digital has also been making some big business moves in this first week of 2016; prior to today's MQA announcement, the company also announced that it will acquire French rival Snowite.