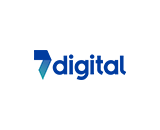 London-based music and radio technology company 7digital today announced an acquisition agreement with French competitor Snowite. 7digital will absorb Snowite from French insolvency court (similar to U.S. bankruptcy), pending approval of that court.
Although details of the upcoming transaction are limited, including the purchase price, the announcement says that 7digital will "add several large customers to its portfolio," implying that 7digital will take over the service contracts of Snowite clients. Those companies, located mainly in continental Europe and Africa, include major media company Vivendi, French retailers, and others. Snowite provides white-label streaming service.
7digital is weighted in the same business, making this acquisition easy to understand. "Our cultures are very close," noted Laurent Bouquet des Chaux, CEO of Snowite, who has run the company for nearly 11 years.

For 7digital CEO Simon Cole, this deal serves a larger ambition to be a leader of industry consolidation. "We have always maintained that — as the market for streaming music and radio services matures — there will be opportunities to consolidate companies (such as Snowite) who operate within individual regions and do not have global scale. We were quite determined to be in a position to drive the consolidation," Cole said.
Technology assets figure in the value of this acquisition. Although 7digital regards its content management platform as state-of-the-art, Snowite's assets will "improve various levels of automation."