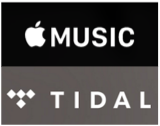 The rumor mill was churning recently over the idea that Apple might acquire Tidal, but such as deal is not in the works. In an interview with BuzzFeed News, Jimmy Iovine denied any plans to push for a takeover. "We're really running our own race," he said. "We're not looking to acquire any streaming services."
Apple is certainly staying busy with its own in-house service. Apple Music just rolled out the iOS 10 redesign promised back at its Worldwide Developers Conference. Its new iPhone 7 model will also be arriving on the market this week, complete (or incomplete) with a new approach to its headphones.
On Tidal's side, the company's newly released 2015 filings showed a doubling of losses, with royalty payments taking the majority share of the expenses. But the tough financial result is paired with increased market interest and visibility as the platform forges new artist alliances.