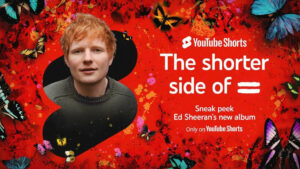 For his latest collection, music superstar Ed Sheeran is partnering with YouTube Shorts by producing one Short for each song. The album is called "+" (that's an equal sign) and the promotional project is called "The shorter side of =."
YouTube Shorts is the video behemoth's competitive stab at Tik Tok. The Sheeran collection pieces run from 14 to 21 seconds each. You can see them all HERE.
The Shorts are meant to encapsulate the personal journey in making Sheeran's album, which took four years, with each one bringing to life intimate and everyday moments. YouTube calls the collaboration "an album launch like no other."
"I had a really fun day shooting my YouTube Shorts," said Sheeran. "I've always really enjoyed the music video process, so it was fun to explore a new way of doing that by channeling each song's theme in a unique way, while also giving you a sneak peek of the album!"
"From day one, I knew Ed and his music would have a lasting, global impact and that remains true today," said Lyor Cohen, Global Head of Music at YouTube. "Ed Sheeran is a storyteller and I am so stoked he is using YouTube Shorts to give his fans an audio and visual preview of his incredibly powerful new album. This is going to be an unforgettable moment."
Ed Sheeran is one of the ten most subscribed musicians on YouTube. Four of his videos have attracted over a billion views each.
.