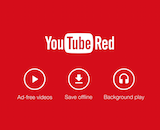 YouTube Red is slated to make an international expansion this year. Chief Business Officer Robert Kyncl told Les Echos that the company has been getting the licensing and distribution deals in place to take the subscription service to more countries. YouTube Red is currently available in Australia, Korea, Mexico, New Zealand, and the U.S.
"All this work now allows us to launch YouTube Red around the world," he said. "We have no launch date for France, but this service will be launched this year on dozens of markets in 2018."
Kyncl also hinted that some product changes may be in the works. "It is true that we are thinking about a better segmentation of the product between music and video," he said. YouTube Red offers ad-free viewing, access to some subscription-only content, and a free subscription to Google Play Music. However, anecdotal evidence points to some confusion about the interplay between the music and video properties covered by the subscription. The speculation that YouTube is planning another paid music platform to launch this year could either alleviate or add to the existing complexity of its product offerings.