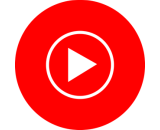 YouTube is making tweaks to its YouTube Music platform, continuing its efforts to make the video-focused service an appealing option for music subscribers. The latest update will see its YouTube Charts being made available as playlists in its 29 launched markets.
The feature will roll out to all the markets where YouTube Music currently operates. YouTube's charts for the Top 100 Songs and the Top 100 Music Videos will have global versions as well as local ones with just the top performers in a particular country. Top 20 Trending Songs will also be a market-specific playlist. The trending playlists are updated several times a day, while the others are revised every Sunday as noon Pacific time.
YouTube relaunched its music app and updated the branding for its subscription programs in May. The charts received their own facelift shortly before the revised YouTube Music debuted. The company has not formally released many details about how many subscribers its paid music property or its joint audio-video access tier have amassed.