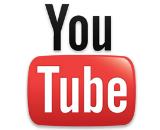 YouTube is making contributions to the bottom line at parent company Alphabet, according to the tech firm's fourth-quarter earnings report. "Our growth in the fourth quarter was exceptional — with revenues up 22% year on year and 24% on a constant currency basis," CFO Ruth Porat said. "This performance was led by mobile search and YouTube." Those increases boosted Q4 2016 revenue to $26.06 billion.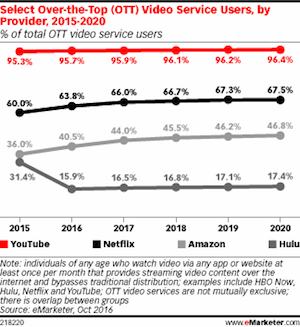 eMarketer posted its own assessment of the Alphabet report, estimating that YouTube had 1801 million users in the U.S. over the course of last year. It doesn't expect U.S. audience size to grow much, just 3.2% this year, as a result of nearing saturation levels. YouTube has nearly total penetration among users of over-the-top video services, its data shows. eMarketer predicted that ad revenue for YouTube increased about 30% in 2016 and estimated that the segment will grow 20% in 2017.
"We are seeing traction with the rate of sign-ups for YouTube Red, but we're not disclosing specific numbers," Google CEO Sundar Pichai said during the earnings call. He added that there would be sizable investments into the YouTube Red and YouTube Music premium channels, but gave few details about the scope.