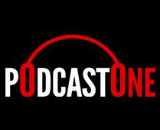 PodcastOne announced the addition of two new shows to its lineup. One is Larry Mac: America's Crew Chief. The weekly show is hosted by NASCAR analyst and Hall of Fame Crew Chief Lanny McReynolds, and its programming includes news, interviews, and personal anecdotes about the racing league.
"I am so excited about my new weekly podcast on PodcastOne," said McReynolds. "Each week, I'll discuss everything NASCAR, including the actual race, technical issues, rule infractions and race winning, or losing, strategy! I'll take questions from you, the fans, as well.
The other program joining PodcastOne is The Tomorrow Show with Keven Undergaro. The show, hosted by the fiancé of E! host Maria Menounos, brings on celebrity guests ranging from Russell Simmons to Mira Sorvino to Stan Lee. The twice-weekly program will be sponsored by Carolla Drinks, the beverage line from fellow PodcastOne star Adam Carolla, and will be rebranded as The Tomorrow Show Brought to You by Carolla Drinks.
"We are all about expanding relationships with our partners," PodcastOne Founder and Executive Chairman Norman Pattiz said. "Keven and Maria's AfterBuzz network has been on PodcastOne since there was PodcastOne, and Carolla is a great partner of ours. We want to make sure this show gets the attention it deserves, that Carolla Drinks benefits, and that PodcastOne adds yet another very successful show."