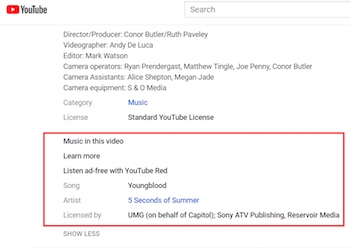 YouTube is updating its system for crediting music in video uploads. The video platform is adding a new section of information called "Music in this video" that will be applied to both official music videos from performers and to fan-uploaded content. "Music in this video" lists the title, artist, writers, and rightsholders for a track. It will include links to the official music video for the song and to the artist's official channel when those are available.
The system is powered by the same technology behind Content ID, which helps copyright owners to monetize and manage where their works are used on YouTube. It's also a result of YouTube's many partnerships within the music industry, including with rights societies, labels, and publishers.
"YouTube is committed to providing recognition to all of the people who contribute to the creative process, and this is just the beginning," the company said in a blog post announcing the update. "Through our industry partnerships we will expand the scope and quality of data to ensure all creators are credited as completely and accurately as possible."
In our spot-testing of the new "Music in this video" information, we did see licensing organizations listed. We didn't find any video yet which lists songwriters or supporting musicians.
YouTube has been making many product changes in the past few months, some more subtle than others, that impact the music world. For instance, it shifted subscribers to Official Artist Channels, a shift that cut down the visibility and importance of Vevo-branded channels that had long been the formal presence for many performers for years. It also has a new subscription service in the works that could consolidate some of the disparate music properties under the YouTube/Google/Alphabet umbrella into a more orderly system.