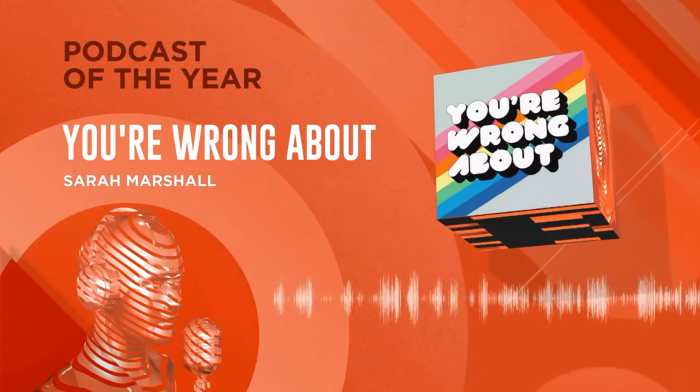 In the beautifully produced (virtual only) iHeartRadio Podcast Awards, You're Wrong About won the Podcast of the Year prize. It is produced by journalist Sarah Marshall, who partners with guests to reconsider a person or event that's been miscast in the public imagination. The show has a big range; recent episodes include reconsideration of Catherine the Great, and Tom Cruise jumping on Oprah's couch.
Ten podcasts were nominated for Podcast of the Year, listed below with number of published episodes:
Code Switch (NPR, 328)
Conan O'Brien Needs a Friend (Earwolf, 230)
Crime Junkie (Audiochuck, 235)
Louder Than a Riot (NPR, 15)
Office Ladies (Earwolf, 122)
SmartLess (Jason Bateman, Sean Hayes, Will Arnett, 87)
Stuff You Should Know Stuff Media/iHeartRadio, 1,861)
The Daily (The New York Times, 1,439)
The Midnight Miracle (Luminary, 12)
You're Wrong About (Sarah Marshall, 152)
The ceremony can be re-watched on demand; go HERE.
.