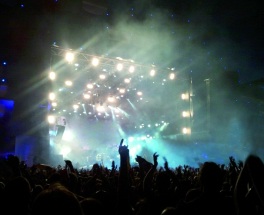 Yahoo has partnered with Live Nation in an agreement to co-distribute live-streamed concerts at a blistering pace — one concert a day (or night) "for several years," according to a Wall Street Journal report.
Concert streaming is, for the most part, a missing element in the on-demand music services. Last October, Turntable.FM opened a live-concert component to its streaming service, but it was short-lived, as the whole company shut down in January.
Yahoo's main competitive focus in this venture is Google, the leader in video content. The company's YouTube platform is arguably the top Internet destination for concert recordings. Yahoo and Live Nation are establishing a slightly different model that intends to funnel users to the the real-time concert stream, only highlights of which will reportedly be archived for time-shifted viewing. As such, it will be an event-programming venture.
Live nation is responsible for selling some or all of this opportunity to advertisers, and has announced Kellogg as a launch sponsor. Live nation CEO Michael Rapino is quoted as saying, "We know advertisers are going to be oversubscribed."