XAPPmedia released its Q4 ad load report, which saw an increase to the average ad load for Internet radio while the average time to first ad continues to drop.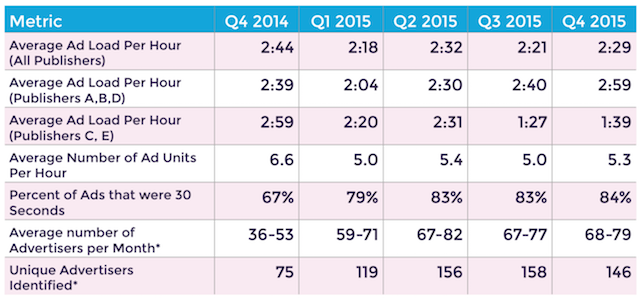 Average ad load rose 5.7% from the third quarter to 2 minutes, 29 seconds. In the fourth quarter of 2014, average ad load was 2 minutes, 44 seconds. As in the third quarter report, advertisers showed a preference for 30-second spots.
The time to first ad, also dubbed TTFA, has continued to decline over the course of the year. The latest rate fell from 13 minutes, 50 seconds in the third quarter to 13 minutes, 14 seconds.
The Home Depot was the top advertiser, with a 7.39% share, followed by Geico at 4.73%. Progressive, Discover, and Macy's rounded out the top five, with between 2.51% and 2.66% shares. The total advertisers for the year increased to 406, a five-fold increase from 2014. The fourth quarter actually marked a decline in the number of distinct advertisers identified, the first drop XAPPmedia had recorded since it started tracking.
Download XAPPmedia's study here.