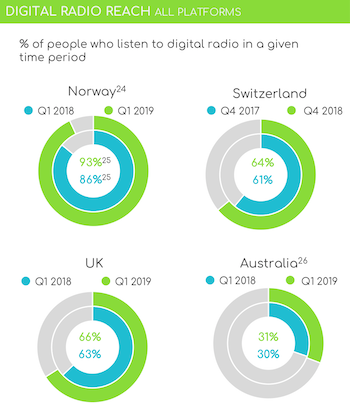 More than 75 million DAB and DAB+ receivers were sold in Europe and Asia Pacific by the end of the fourth quarter of 2018. That's the latest report from WorldDAB, which saw the receiver sales grow from 65 million in Q4 2017.
The UK leads those two regions with cumulative sales of nearly 39.34 million units. The figure includes pre-2008 sales as well as sales from the following decade. Two-thirds (67%) of the UK households had at least one DAB receiver, according to the report. The local government is working on a review and program of work focused on the future of digital radio in the country.
Germany was the next biggest market, with more than 11.8 million sales between 2008 and 2018, followed by Norway at 6 million cumulative sales.
Norway, the UK, and Switzerland had the highest rates of new cars with DAB or DAB+ sets, all reporting more than 90%. Norway also topped household receiver penetration of the digital sets.
The report found that even those more established markets for digital radio have room for growth in digital radio listening. WorldDAB found increases in digital radio's reach in Norway, Switzerland, the UK, and Australia, as seen in the chart above from its infographic accompanying the report.