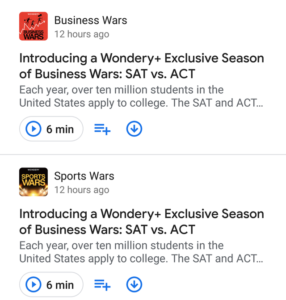 One of Wondery's best known shows, Business Wars, is preparing a new season that will be distributed exclusively by Wondery Plus, the company's ad-free subscription service. Some podcasts presented in Wondery Plus also are distributed via RSS normally, with ads in the programs. In this case, the new season of Business Wars is called and "Wondery + Exclusive."
Business Wars is an unquestionably successful show, and appears in Triton Digital's most recent U.S. Podcast Report, ranking #48 in average weekly audience. We don't know about the financials. But it is notable that a popular, highly recognized show is being pulled out of general listening.
Each season of the show contains more or less six episodes that describe the competitive course of two companies — e.g. Pizza Hut vs. Domino's, and FedEx vs. UPS.
Wondery Plus started in 2019, and was enhanced  with a dedicated mobile app that came out in June of this year.