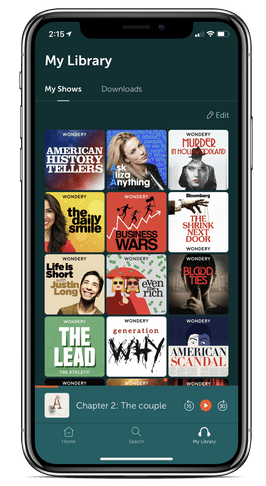 Podcast creative network Wondery is launching its own listening app, a first for the company. In doing so, Wondery gives extra support and a more coherent presentation of the Wondery Plus subscription service, which offers ad-free listening to Wondery shows.
Wondery Plus started over a year ago at $4.99/month, and listeners could access the ad-free shows on the Wondery website.
An early access version of the app (Android) failed to download in several attempts; we will  keep trying.
Discussing the timing of the launch, Wondery founder and CEO Hernan Lopez said: "Very early on, when I started the company, we knew at some point we wanted to have our own place where listeners could listen to the Wondery shows. But we also knew we had to wait until we had enough shows, and the Wondery brand had enough breadth for people to go through the trouble of downloading an app and use it on a daily basis."
With this launch Wondery will include 50 shows, including recognized titles Business Wards, Dr. Death, and American History Tellers. As to breadth, Wondery appears in the upper portion of Podtrac's Top Podcast Publishers (#6 in May for audience) and Triton Digital's US Podcast Report (#4 for weekly users).